THE HAMPSHIRE POLICE & FIRE HERITAGE TRUST


Now that the Hampshire Police and Fire Collection is open to the public, we need to recruit people who are willing to spend a few hours a month helping us out. This can be simply by being a presence at the museum when it is open and chatting to visitors about the collection. We need people with either a Police or a Fire background. Detailed knowledge of the history and background of items is not essential as we will provide information sheets. We also need people who would be happy to conduct research into objects or service history. The museum is within the Solent Sky Museum, Albert Road South, Southampton, SO14 3FR. Free parking is available.
Volunteers play a vital role in museums and help us to keep them open for the enjoyment of the public. All volunteers are covered by the Solent Sky Museum insurance. The information you provide will be stored in confidence under the provisions of the Data Protection Act. Your completed form will be held securely and confidentially. Only authorized staff will have access to your information.
The Hampshire Police & Fire Heritage Trust Volunteer Application Form
LORD MAYOR'S HALLOWEEN FANCY DRESS PARTY
28th October 2017 - 8pm-11pm
The Good Companion - 2 Eastern Road Portsmouth - PO3 6ES
Dare to enter the Good Companion Pub for this party…
Dust off your broomstick, polish off your fangs and cover up your creaky bones and join us for an evening of music with our eerie DJ; nibbles to exercise your fangs; a raffle full of Tricks or Treats and a host of howling fun.
LORD MAYOR'S COFFEE MORNING
The Lord Mayor is hosting a coffee morning at 10am 1st November in aid of his charity appeal with special guests Veterans Outreach Support , who will give a presentation on the invaluable work they do in providing support and mental health therapies to former veterans and their families.
LORD MAYOR'S CABARET EVENING
A spectacular evening of excellent food and impressive entertainment, right in the heart of Gunwharf Quays at Tiger Tiger on Friday 3rd November. This promises to be an all-round enjoyable event, so please book your tickets early to avoid disappointment as numbers are limited.
Click Here for Details, Menu and Ticket Details
ROCKY APPEAL HEROINE

On Saturday 26th August before an admiring crowd of friends and well wishes Eileen Burgess eased herself out into space to begin her abseil down the face of the Spinnaker Tower at Gunwharf in Portsmouth. This impressive photograph shows how much Eileen enjoyed the challenge, stopping as she did several times to wave to those friends and to admire the wonderful view of Portsmouth Harbour and its surrounds. This was all in aid of our Branch Charity, the Rocky Appeal: what a brave lady she is following in the footsteps of member Joyce Taylor. Eileen raised a very substantial sum for the charity but the final amount will be published later.

Voice Mobile - NARPO
Voice Mobile. Working in partnership with EE, Voice Mobile can offer you fantastic deals on many top range mobile devices from Apple, Samsung, LG and Sony.
PENSION OMBUDSMAN DETERMINATION ON TAX LIABILITIES ON RE-EMPLOYMENT
The Pension Ombudsman in a South Wales case has determined that the Police and Crime Commissioner had a duty of care, as an employer, to have informed the Applicant of the tax implications of re - employment on his retirement benefits. Its failure to do so has led to the Applicant incurring tax charges on his retirement benefits.
As a responsible employer the Commissioner had a duty of care to inform the Applicant of the tax implications of re-employment on his retirement benefits. I find that as a consequence of their failure to do so that they should reasonably meet the tax PO-7096 liabilities incurred by the applicant in this regard. So, I agree with the stance taken by the Commissioner that it proposes to pay the tax liability for the applicant in relation to this issue on confirmation of the amount from HMRC.
Full case link: https://www.pensions-ombudsman.org.uk/determinations/2015/po-7096/police-pension-scheme/
CHARITY DINNER O SOLE MIO RESTAURANT 27TH OCTOBER 2017
As the result of a cancellation there are some tickets left for this function which is being run by Mick Lyons to raise funds for the Rocky Appeal to retain the Da Vinci Robot at QA Hospital.
Should you require a ticket please contact the Social Secretary or Mick Lyons as soon as possible
MISSING POLICE MEMORIAL NAMES TRACED AND RESEARCH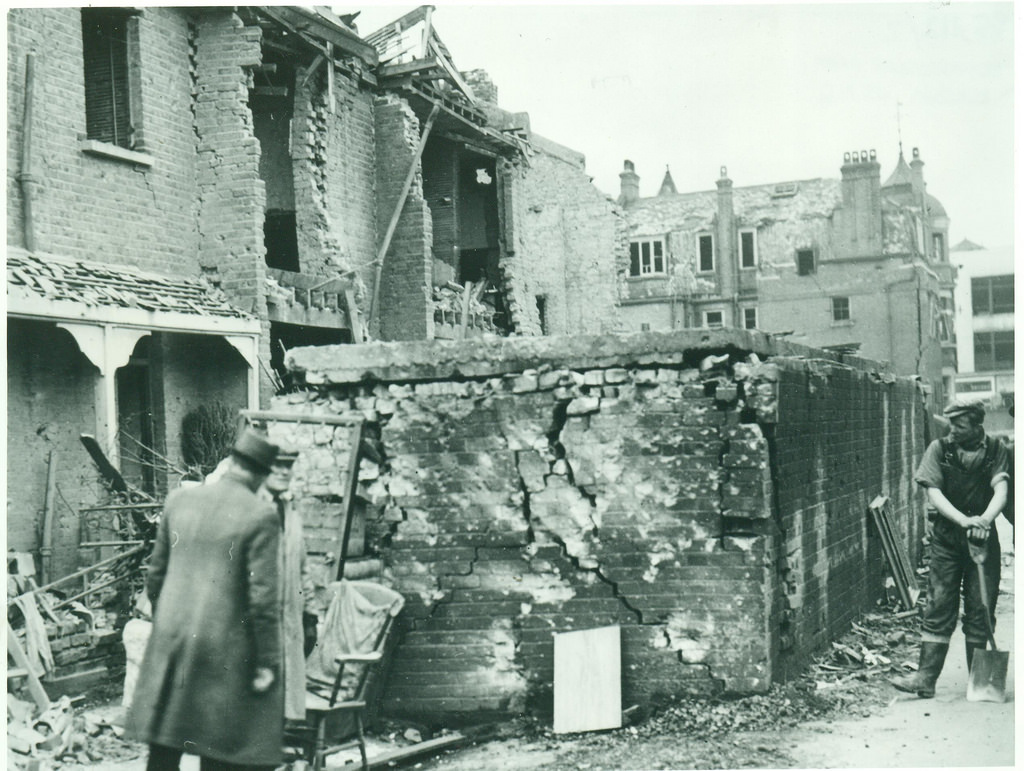 This photograph shows some of the damage caused to Talbot Road by German bombs during the Blitz. Special Constable Harold White lived there at number 66 and died at home together with his young wife and six year old son.
Please click on the names here to find information in relation to the missing names from the Portsmouth Memorial, Harold White, Tim Lyons and William Harley.
Thanks to the research carried out by Diana Gregg their names will be added to the Memorial in the coming months.