IF YOU ARE NOT YET RECEIVING YOUR POLICE PENSION OR ARE JOINING A BRANCH OUTSIDE YOUR FORMER FORCE AREA, PROOF OF YOUR POLICE SERVICE WILL BE VERY HELPFUL AND SHOULD BE INCLUDED IN THE APPLICATION TO BRANCH SECRETARIES.

Join Us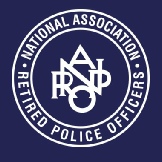 Copyright © Portsmouth and Gosport NARPO 2017. All Rights Reserved.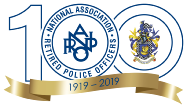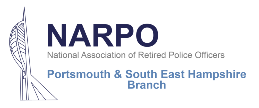 NATIONAL ASSOCIATION OF RETIRED POLICE OFFICERS
- PORTSMOUTH AND SOUTH EAST HAMPSHIRE BRANCH


Dear Friends,
Welcome to the website of the Portsmouth and South East Hampshire Branch of NARPO - otherwise known as Portsmouth NARPO.
We meet every two months at the Royal Marines' Association club premises at Dunn Close, Southsea, Portsmouth PO4 9SB which is situated off Henderson Road. Dates of forthcoming meetings are posted elsewhere on this web site.
We see ourselves as being a very friendly, welcoming and thriving branch of NARPO and we certainly have a busy, interesting and varied social life.
Currently we have some 690 members who range in ages from newly retired officers to some of the oldest Constabulary pensioners. Included in this number are some 50 widows who continue to maintain




contact with our Association despite the loss of their other half.
Some of our members live in New Zealand, Spain and France apart from other parts of the UK.
Despite the title you don't have to live in the Portsmouth area to join us and if you are already a NARPO member, no matter from which Branch, then you will be made more than welcome and that's a promise!
Roy Pether
Chairman
February AGM Meeting and future meetings cancelled until further notice.